PART 8 ? Unlinking 2RAR and 4 RAR
On 15th January 1995, Lieutenant Colonel R.C. Smith who was posted to Land Headquarters and had carried out the detailed planning to re-raise the Battalion was appointed Commanding Officer of 4 RAR.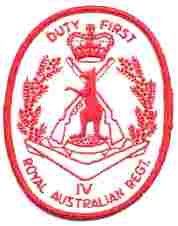 A Project Team for the raising of the additional infantry battalion was formed on 23 Nov 94, to begin planning. This consisted initially of the CO, Lt Col R.C. Smith and RSM, WO1 K.R. Kahler. Shortly afterwards additional personnel with future appointments in the Battalion were posted to the Project Team.
The Courts Martial Room at Land Headquarters, Victoria Barracks, Paddington along with numerous computers and mobile phones, were made available for the Project Team to commence work. This was the beginning of the new technology Battalion. Manning was approved for 69 regular army and 103 General Reserve soldiers in the first year, building to 3 regular army rifle companies and 1 General Reserve rifle company by 1998. The General Reserve would also have proportional elements in Support and Administrative Companies giving respective strengths of 556 regular soldiers and 150 reserve soldiers. Therefore, the total unit strength would be 706 all ranks.
The 2nd/4th Battalion was unlinked by the Chief of the General Staff, Lt Gen J.C. Grey, AO on a parade at Samichon Lines, Lavarack Barracks, Townsville at 1500 hours on 1 February 1995.
After the parade the colours were escorted to Holsworthy on 2 Feb 95, by the Adjutant, Capt S.J. Kluver and SSgt G.J. Stanworth, where a ceremonial parade was held at 1600 hrs to uncase the colours to mark this auspicious occasion. The Reviewing Officer for the parade was Major General P.N. Arnison,Franck Muller Replica AO and the Host Officer was Brigadier A.J. Molan, AM Commander 1st Brigade.
The Battalion enjoyed strong ties with the 4th Infantry Battalions Association and was barracked at Jordan Lines, Holsworthy. It was intended the Battalion would occupy Tobruk Lines when 5/7 RAR (Mechanised) moved to Darwin in 1998. The Battalion finally moved into Tobruk Lines in November 2000 prior to Christmas, to enable The Battalion to conduct training before deploying to East Timor in April.
PART 9 ? Name Change to 4 RAR (Commando)

In 1996, a decision was made to convert the Battalion to a Special Forces unit and on 1 Feb 97 was re-named 4 RAR (Commando). Regular serving members were given the opportunity to undertake Special Forces training or elect a posting to a conventional forces unit. No General Reserve positions existed in the new structure and reserve members discharged or posted to General Reserve units. Lt Col R.C. Smith and WO1 Kahler remained in the unit during the first year before handing over to Lt Col N.L. Thompson on 29 Nov 97 and WO1 A. Forsyth on 12 Jan 98 respectively.
The initial years were busy creating a structure and recruiting members suitable for commando training. Bravo Coy was raised first followed by Charlie Coy in 1999, both taking 2-3 years to reach maturity. The pace of battalion life during these development years was hectic with capability development, equipment acquisition and training, focussing every member?s attention. Lt Col N.L. Thompson (29 Nov 97-17 Nov 99) and WO1 A. Forsyth (12 Jan 98-16 Jan 00) oversaw much of this consolidation period in an era involving preparation for the Sydney Olympics and much of the ADF being focussed on operational deployments to East Timor.
Lt Col J.J. Sengelman assumed command of the unit on 18 Nov 99 and quickly prepared Bravo Coy to assume operational responsibilities on 1 Mar 00, in accordance with OPO serials. In addition to this, Charlie Coy were tasked with providing support to SASR during the Olympics. Lt Col Sengelman was assisted by his new RSM, WO1 R.E. Lambert, who commenced work on 17 Jan 2000.
** The 2nd Commando Regiment (2 Cdo Regt) is an Australian Army commando unit, and is one of three combat-capable units within the Australian Special Operations Command.[2] The regiment was established on 19 June 2009 when it was renamed from the 4th Battalion, Royal Australian Regiment (4 RAR)**......courtesy Wikipedia
**In June 2009 4RAR (Commando) was officially renamed 2nd Commando Regiment.
4rar was removed from the ORBAT and effectively "mothballed" until such time as the unit would be re-raised.**